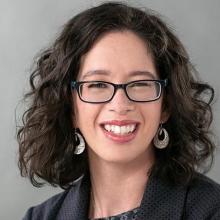 "If someone is asking me to be more like the dominant culture and saying, 'your identity is in Christ' and what they really want is for me to be less loud or wear smaller earrings or to be more quiet and feminine, they're not actually asking me to look more like Jesus, they're asking me to look more like them." -Chandra Crane

Listen in as Women in the Academy and Professions associate Caroline Triscik interviews writer and campus minister Chandra Crane. In our conversation we discuss ethnicity and culture, identity formation, and Chandra's upcoming book, Mixed Blessing: Embracing the Fullness of Your Multiethnic Identity. Chandra works for InterVarsity Christian Fellowship's Graduate and Faculty Ministries and is in the process of completing her M.A. at Reformed Theological Seminary. Chandra grew up in a multiethnic/multicultural family in the Southwest and is now happily transplanted to the Deep South. We hope you'll appreciate Chandra's intelligence, sense of humor, and strong voice as we discuss the intersection of cultural identity development, gender, and faith in Jesus.
For show notes or more information please visit our article at The Well.

If you'd like to support the work of InterVarsity's Women in the Academy and Professions, including future podcasts such as this episode, you can do so at givetoiv.org/wap. Thank you for listening!